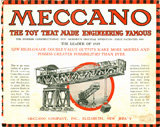 1928 & 1929 US Meccano Catalogs
Meccano, Inc. (of the USA) produced two catalogs with the year 1929 prominent on the front cover. One, based on the print code of O-0928/50, is actually a September 1928 catalog. Each page of this catalog has a border of red and black squares, and the outfits are numbered 00, 1, 1x, 2, 2x, 3, 3x, 4x, 5x and 6x (no No. 7 was sold in the USA in the 1920s).
The other catalog has a print code of PL. 1029-50, indicating a date of October 1929. This catalog lacks the border, and the outfits are numbered 0, 5 Special, 10, 20, 30, 40, 50, 60 and 70.
Many of the pages in these catalogs are similar, so the two are presented here together. The 'publicity' pages are not included here, but all pages showing parts and outfits are available.